Advanced Accreditation in Team Coaching (AATC)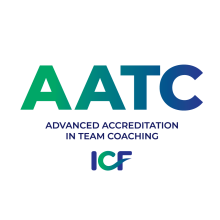 This program is accredited by the ICF as an Advanced Accreditation in Team Coach for 74.5 total hours of coach-specific education/training.
Advanced Coaching with Groups and Teams is structured around developing mastery of your own capability to work with groups, and understanding how you work with yourself. The program will have a prework section on-line, web meetings, and 3 days of in-person training totaling to 74.5 hours of training.
Completing this course will help you:
Envision Global Leadership's Team Coaching Certification caters to ICF accredited coaches in search of team coaching training. You will learn a systemic team coaching approach based on a thorough understanding of the unique features of team coaching.
Prework starts – January 1, 2024
In-person workshop – January 30, 31, and February 1, 2024 in Santa Barbara, CA
Post work – through March 10, 2024
Ready to Elevate Your Coaching Expertise? Get in touch with us to reserve your place.
Expand Your Skillset and Enhance Your Impact Today!
Envision Global Leadership is a trusted provider of leadership development, succession planning, and selection solutions, powered by artificial intelligence and cutting-edge technology. Our innovative technology removes bias from the leadership development process, allowing organizations to identify and develop their most talented individuals with greater accuracy and efficiency.
Our team of experts has decades of experience in leadership development and selection, working across a wide range of industries and sectors. We are committed to helping our clients build high-performing teams that are equipped to meet the challenges of today's fast-paced and ever-changing business environment.